HOPE is our new show! It's bubbling and jumping away in rehearsal at the moment and ready to burst right out at in the Autumn and Winter 2021/2022.
We're very excited! Get in touch if you'd like to see it in your local venue!
2022 dates so far…
6 Feb – (matinee) Cecil Sharp House
13 Feb – The Stables, Milton Keynes
16 Feb – The Point, Eastleigh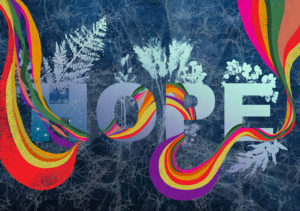 Stronger than fear, fuelled with love, this is a defiantly joyous new show from Folk Dance Remixed, created in response to the challenging times we share. In it we take a 21st century look at the ancient story of Pandora's Box, when all the evils of the world were unleashed and hope remained to protect and defend us all.
Live musicians and dancers explore wondrous realms with a stunning electronic soundscape, poetry and storytelling.
You can bring your own hopes for the future; and get ready for bursts of colour, shoots of growth, branches of dreams and a riotous celebration of connectivity, interdependence and resilience, as we find our way back to hope from despair and co create a vision of a brighter future in which all our wildest dreams can come true.
Here's our 1 minute trailer:
"Hope" was conceived by Folk Dance Remixed and Bernadette Russell in response to her brilliant new book "How To Be Hopeful". "Hope" was commissioned by the English Folk Dance and Song Society and is funded by the Weston Culture Fund of the Garfield Weston Foundation.
Creative team

Bernadette Russell – writer/dramaturge/co- director
DJ Walde – composer/musical director
Kerry Fletcher – co-director /choreographer
Natasha Khamjani – co-director /choreographer
Rachana Jadhav – set and costume designer
Tom Fairbairn – show musical director/associate artist